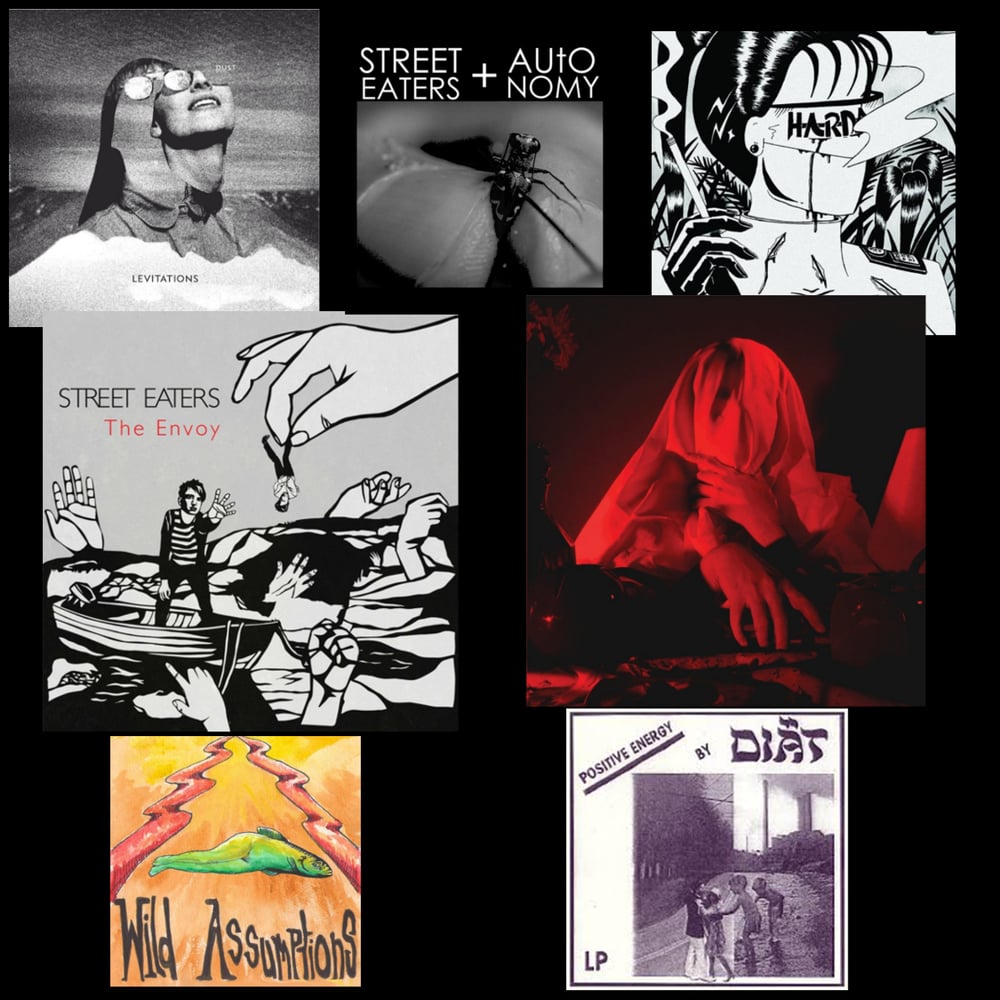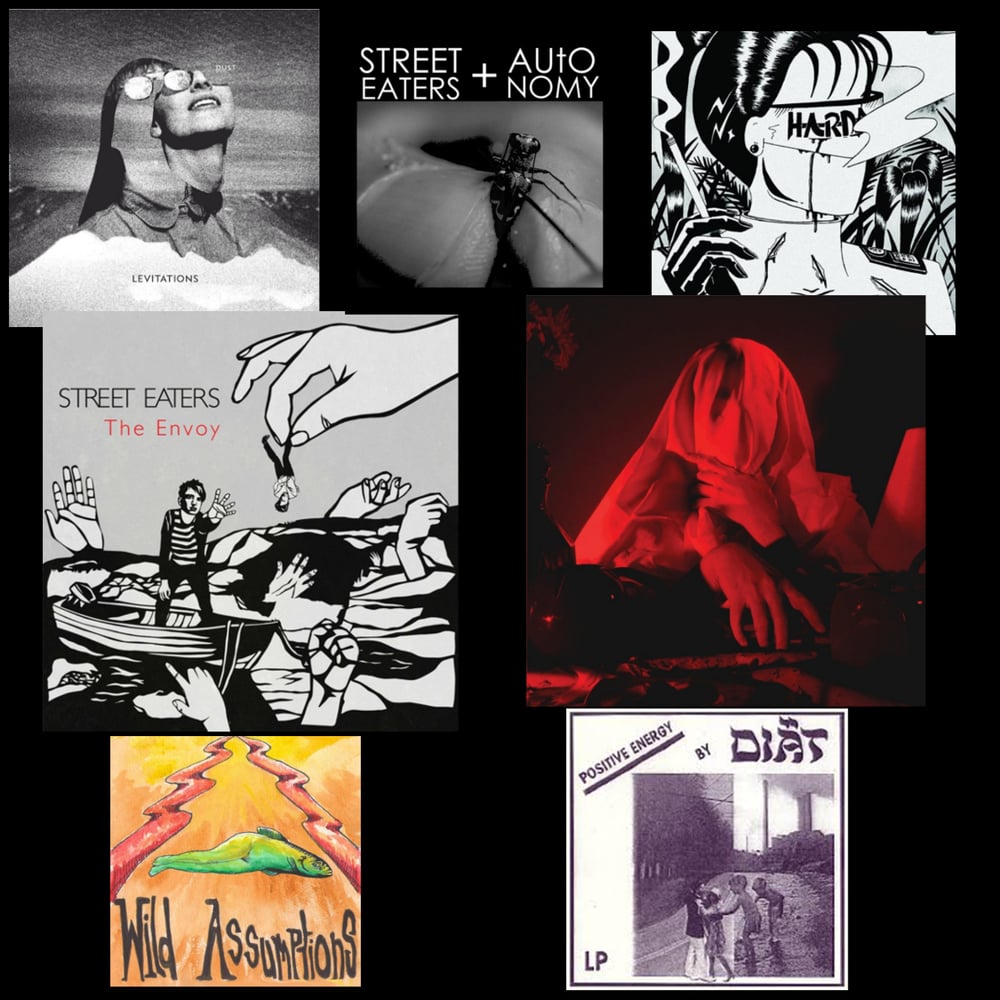 NERVOUS INTENT VINYL
$14.00 / On Sale
Vinyl available from Nervous Intent! $14-$16 each for LPs (plus shipping), buy more than one and get a free bonus 7" of our choosing
NIR-006
STREET EATERS - "THE ENVOY" LP
~~"THE ENVOY" (U.S. Pressing) is a 500-press 12", black vinyl with cover art by noted artist Miriam Klein Stahl, includes three-color risograph-printed inserts and poly bags~~
More streaming music (and digital download), tour dates, etc. from Street Eaters can be found HERE
THE ENVOY is Street Eaters' new record, a concept album based on famed dystopian, gender revolutionary, anti-authoritarian author Ursula K. Le Guin's books "The Dispossessed" and "Left Hand of Darkness". Cover art by Miriam Klein Stahl (illustrator of "Rad American Women A-Z" and "Rad Women Worldwide").
STREET EATERS are a truewave/punk band from Berkeley+Oakland, CA that has drawn a range of sonic comparisons to bands from Wipers to Masshysteri, Autoclave to Mission of Burma, Huggy Bear to KARP, Sonic Youth's 'Bad Moon Rising' to the early recordings of Warsaw. After years of relentless international touring on the heels of their well-received album "Blood::Muscles::Bones" (released on Nervous Intent in the U.S./Contraszt! in Europe), Megan March and John No returned home to troubled times in their immediate bay area underground punk community/family and the world at large. True to form, the band sought to come to terms with this changed landscape by diving deeply into their own recording studio to create a new record with an expansive new vision with "The Envoy". Directly inspired by Le Guin's radical speculative fiction and analytical lens on the world around us and beyond it, Street Eaters tackle transformative and transgressive lyrical themes of oppression, resistance, and change explored in the books.
"Street Eaters are two people—Megan March and John No—but on The Envoy, the followup to 2014's Blood::Muscles::Bones, they conjure entire worlds. March and No thread the underwater yawp of sea lions, the grind of collapsing glaciers, and whistling oscillations of planets through their already noisy soundscape. Feedback whips and howls, while a wildly overdriven bass leads the way deeper into the darkness."
--Flood Magazine
NIR-005
CROOKED BANGS - "II" LP
~~"II" is a 500-press 12", black vinyl with red+black semi-gloss printed cover, matte black inner sleeves with poly bags and grey or red heavy card stock insert~~
--Digital copy/streaming available HERE--
Crooked Bangs are from Austin, and are proud purveyors of a distinct musical form of the freakiness for which that city is so well-noted. Crooked Bangs could be described as dark punk noir, with brooding guitar and bass lines, Phillip Gonzalez' relentlessly powerful drumming, and smoky French/English hybrid style vocals from Leda Ginestra - but the energy and overall vibe delve deep into the a distinctive sonic playing field and atmosphere akin to early Sub Pop singles club releases. Samantha (guitarist) has a distinct guitar style that is reminiscent of the more-innovative second-wave Crass Records bands such as Rudimentary Peni, 90's heavy-but-melodic noise rock like Babes In Toyland, and the noisier side of UK82 HC, while the whole band's sound remains resolutely modern and compatible with the dark garage ouvre from stalwarts such as Lost Sounds.
"Crooked Bangs are an Austin trio that plays brooding, multi-lingual post-punk with a noisy bent — think Savages by way of the Melvins, after a long Parisian vacation. Their powerhouse is bandleader / bassist Leda Ginestra, a versatile vocalist who plays deft games of hopscotch with language (English and French) and dynamics (caustic screams and mumbled deadpans); guitarist Samantha Wedndel and drummer Phillip Gonzalez buttress these performances with aplomb, resulting in a sound that's as hellish as it is hypnotic." - Zoe Camp, CLRVYNT
"[Crooked Bangs] make you want to run, not walk to the nearest, sweatiest, and darkest basement or club show" --She Shreds magazine
"There's something inherently cinematic about II. It busts wide open with "We Are Gold," a forceful and infernal track best paired with a car chase scene. Track two, "Rabbit Hole," positions Leda Ginestra's vocals as the driving force of the record, elevating it to avant-punk. Ginestra's low register manifests into a hellish Wiccan chant, with a gothic vibrato similar to Chelsea Wolfe and Siouxsie Sioux ("Out"). And for good measure, her monotony is punctuated by killer '70s punk screeches ("Baudelaire"). Wendell and Gonzalez provide the score for Ginestra's bilingual singing (she howls in both French and English), supplying gritty, industrial bass lines ("Le Phenix") and frenetic cymbals ("Suspendu") to help keep us uneasy. "Blood Tableau" is a distorted send-off that tapers off into a cloud of feedback, much like quickening your pace on a dark street until you sigh in relief that you've made it home safe." --Taylor Silver, Le Sigh
STREET EATERS/AUTONOMY - split 7" (on OFF THE BOOKS Records, Seattle)
7" split with STREET EATERS and AUTONOMY (autonomy.bandcamp.com) released by OFF THE BOOKS RECORDS (offthebooksrecords.bandcamp.com/album/street-eaters-autonomy-split-7) a couple years back. This was thought to be out of print but a few dozen copies were recently unearthed, grab one while you can
HÄRDA UT - "SAME" LP (on ADAGIO830 Records, Berlin)
Noise-damaged hardcore punk from Gothenburg, Sweden. Released in March, 2017 on Adagio 830. European Import
LISTEN TO THEM HERE
LEVITATIONS - "Dust" LP (on ADAGIO830 Records, Berlin)
LP version of stellar debut album from Berlin's LEVITATIONS. European import, released by Adagio830 Records, tape version also available from Nervous Intent. LEVITATIONS are a powerful, haunting three piece post punk/truewave band from Berlin, and this is the tape version of their debut album. The LP is available on Berlin-based label Adagio830 (https://adagio830-records.bandcamp.com/), home to bands such as Diat and Hoax. 9 songs of blistering dark post punk, evocative of powerful/icy bands like DA!, Slant 6, Kleenix/Lilliput, Arctic Flowers, and the Subnormal Girls comp. Raw and catchy at the same time.
LISTEN TO THEM HERE
DIäT : "Positive Energy" LP (on ADAGIO830 Records, Berlin)
German pressing of their LP imported from our friends Adagio 830 in Berlin (US release on Iron Lung)
"Even among the glut of bands currently exploring the first-wave strain of post-punk, East Berlin's Diät stand out. Positive Energy is a dark punk record, but the title isn't an ironic pose: they use sarcasm as a way to get to the heart of the matter. " -Jes Skolnik
LISTEN TO THEM HERE