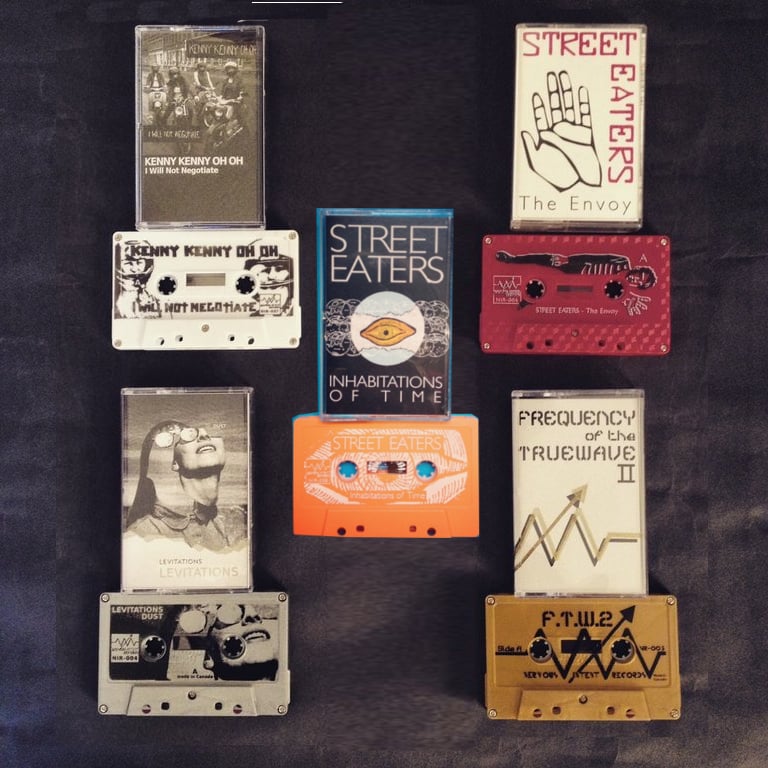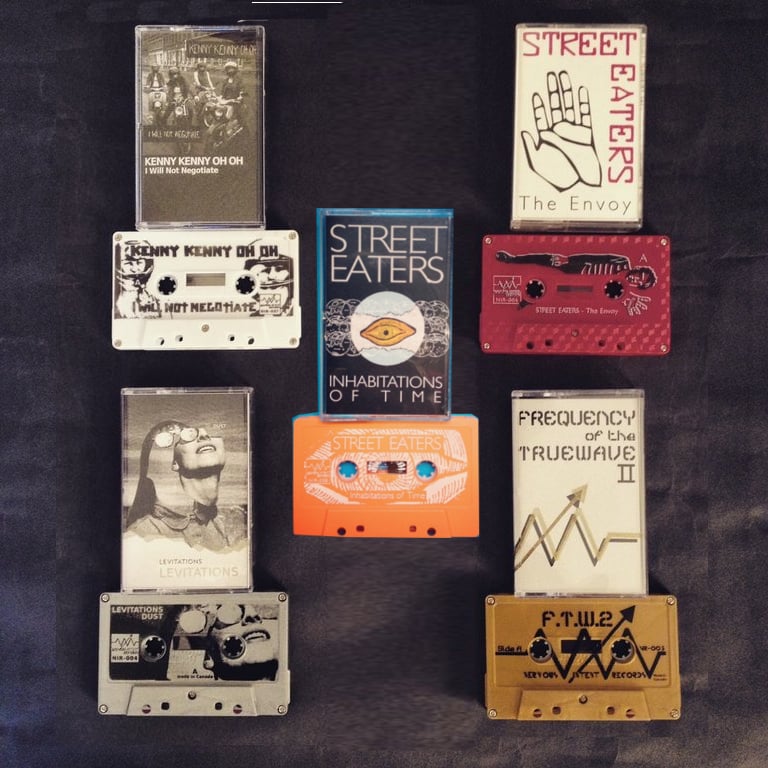 TAPES, CDs, and package deals!
$6.00 / On Sale
Tapes available from Nervous Intent! 6 bucks each (plus shipping), order any two tapes for $11, any three tapes for $16, four tapes for $20, or all 5 for $22!
NIR 008
STREET EATERS - "INHABITATIONS OF TIME" cassette
~~Limited pressing of 100 - 22-minute, two-sided, real-time dubbed orange shell cassette tape with on-shell white pad printing on both sides and full-color printed outer cardboard slide-in sleeve.~~
To stream Street Eaters' "Inhabitations of Time", go HERE
Over the course of two years, Berkeley-based truewave punk band Street Eaters (Megan March and John No) recorded over 120 minutes of original music inspired by the books "The Dispossessed" and "The Left Hand of Darkness" by the late speculative fiction author Ursula K. LeGuin, whose deliberate prose, critical analysis and unapologetically radical themes represented a unique vision that resonated with the music the band wanted to make. Ranging from intense, short truewave punk songs to atmospheric soundscapes, around 40 minutes of this material made it onto the 2017 album "The Envoy" (streeteaters.bandcamp.com/album/the-envoy).
Now, using the best of the unheard material from all those recordings and a few expanded tracks from "The Envoy", Street Eaters are releasing "INHABITATIONS OF TIME" - an all-instrumental, ambient and experimental companion piece to (and contrast with) the intense, song-oriented "The Envoy". Mixing together sounds+rhythms from electric bass, synth textures, acoustic percussion, oscillating frequencies from magnetic patterns of planets and comets, satellite pulses, cracking of icebergs, modded electronic children's toys, and more, this sonic palette aims to encompass the human and not-so-human conditions expressed by characters and entire worlds in LeGuin's work.
NIR 007
KENNY KENNY OH OH - "I WILL NOT NEGOTIATE" cassette
~~Limited pressing of 100 - Opaque white cassette with black on shell print, 2-sided insert with lyrics and bonus track not found on LP~~
To stream Kenny Kenny Oh Oh, go HERE
For Fans Of: Burning Kitchen, Mulheim Asozial, Tozi Babe, The Slits. Powerful, raw, political, action PUNK! Kenny Kenny Oh Oh are four women from Leipzig, Germany who have been destroying underground spaces and squats all over Europe for the last few years, and they have finally released their flawless debut album I WILL NOT NEGOTIATE - Nervous Intent Records is honored to release the limited US pressing of the album on tape. Includes a ripping bonus song (the title track "I Will Not Negotiate"!). European pressing of the LP available on Contraszt! Records
"Nine spunky tunes from this Berlin/Leipzig group. The clear, well-balanced recording and genuine performance lend to a lively sound that many bands can't capture in the studio. These women play honest punk that is not sub-genre specific, which I think is a hard thing to pull off these days. The songs are direct and I'm hearing lots of great instrumental and vocal hooks - It's obvious they spent the necessary time and effort to write great songs. I particularly like the relatable and defeatist lyrics to "That's Not a Day" and totally appreciate the sentiment in "Don't Put a Ring On It". Top it off with punks on scooters and we have ourselves an obvious top tenner." --MaximumRockNRoll
NIR-006
STREET EATERS - "THE ENVOY" cassette and CD
~~Cassette version (European printing) of Street Eaters' 2017 album "The Envoy". Dubbed in real time for high quality, original artwork by Miriam Klein Stahl on both side A and B printed onto red shells with 2-color ink. 2-color covers printed on a risograph. 3-color printed insert w/lyrics. Only a few dozen left!~~

~~Also available: "The Envoy" on CD format, full-color printed cardboard jacket slimline sleeves, hand-stamped on-cd printing, full-color insert w/lyrics~~
More streaming music (and digital download), tour dates, etc. from Street Eaters can be found HERE
LEVITATIONS are a powerful, haunting three piece post punk/truewave band from Berlin, and this is the tape version of their debut album. The LP, released this month, is available on Berlin-based label Adagio830, home to bands such as Diat and Hoax. 9 songs of blistering dark post punk, evocative of powerful/icy bands like DA!, Slant 6, Kleenix/Lilliput, Arctic Flowers, and the Subnormal Girls comp. Raw and catchy at the same time. LP available on Adagio830
"Berlin trio Levitations make an intense, feverish, raw-nerved form of post-punk, one that takes its cues from the genre's ragged pioneers rather than the sleeker, more danceable acts that came later. The album's title track is a burning headrush of a song" (Stereogum)
NIR-003
FREQUENCY OF THE TRUEWAVE VOL II - compilation
~~Limited pressing of 250, metallic gold C-48 cassette with black on-shell print, hand-stamped tape cover, and insert sheet risograph printed! 16 songs in 38 minutes. Mastered for cassette and real-time dubbed for high audio quality.~~
To stream or download the FTW II comp, go HERE
This is the newest edition of the well-received compilation tape series from Nervous Intent Records, featuring the likes of PRIESTS, SHOPPING, CROOKED BANGS, STREET EATERS, RAGANA, NO BABIES, MOZART, TROIKA, COMPOSITE, LIE, NAIVE, DAISY WORLD, STRANGE FACES, SPLIT FEET, STEEL CHAINS and VIOLENCE CREEPS. The online version of this compilation recently premiered on the excellent website Fvck The Media
The tracks chosen for the Frequency of the Truewave comps are curated carefully by the label, with a listening flow more akin to classic mixtapes than standard compilations made up of random oddities from the bands. All the bands operate on the punk/hardcore/post-punk spectrum, happen to be fronted by women, and are unified by a common raw, powerful, and distinct vision grounded in truewave/punk aesthetics and ethics.
Side A
CROOKED BANGS (Austin) - Le Phènix (0:00)
SHOPPING (London) – Long Way Home (2:41)
STREET EATERS (Bay Area) – Witch (5:12)
MOZART (Bay Area) – Die Slow (7:51)
TROIKA (Madrid) – Etiquetas (9:34)
NO BABIES (Bay Area) – Ripper (10:59)
LIÈ (Vancouver) - Sorry (13:15)
STEEL CHAINS (Portland) – Standing In The Light (16:11)
Side B
PRIESTS (Washington D.C.) – Talking (18:29)
COMPOSITE (Bay Area) – Freedom and a Dagger (21:31)
SPLIT FEET (Chicago) – Cat Mug on Secretaries Day (22:32)
DAISY WORLD (Bay Area) – Untitled (23:44)
VIOLENCE CREEPS (Bay Area) – Amber Alert (26:06)
RAGANA (Bay Area) - Chain Reaction (27:10)
STRANGE FACES (Bay Area) – No Peace (30:15)
NAIVE (Leipzig) – Whiteout (32:16)